Zero
Motorcycle SR/S
The SR/S is one of Zero's most innovative, powerful, and intelligent motorcycles, offering elevated design and industryleading performance. SR/S delivers the most forward thinking technology in a fast moving industry.
| | | | |
| --- | --- | --- | --- |
| CITY RANGE1 | PEAK TORQUE2 | TOP SPEED4 | WEIGHT |
| 259 km | 190 Nm | 200 km/h | 229 kg |
| | |
| --- | --- |
| 2021 | STANDARD / PREMIUM |
| CITY RANGE 1 | 259 km |
| HIGHWAY RANGE 1 | 132 km |
| COMBINED RANGE | 175 km |
| PEAK TORQUE 2 | 190 Nm |
| PEAK POWER 3 | 82 kW @ 5.000 rpm |
| LICENSING REQUIREMENT | Full A Licence |
| TOP SPEED 4 | 200 km/h |
| POWER PACK MAX CAPACITY | 14,4 kWh |
| TYPICAL COST TO RECHARGE | 2,96 € |
| CHARGE TIME, TO 95% 5 | 4,0 hr / 2,0 hr |
| » W/ ACC. CHARGER, TO 95% | 3 hr / 1,0 hr |
| WEIGHT | 229 kg / 234 kg |
| SEAT HEIGHT | 787 mm |
| POWER PACK WARRANTY | 5 years/unlimited km |
1. Range and top speed vary based on riding style and drivetrain configuration. 2. Peak torque is net torque according to UNECE regulation No 85. 3. Peak power is net power according to UNECE regulation No 85. 4. Top speed may vary with state of charge, rider and riding conditions. 5. Charging time and range may vary. Charging rate is dependent on charge station compatibility and capacity. Range varies by model, options and riding style. 6. The Power Tank is not compatible with motorcycles equipped with the Charge Tank or with an additional 6 kW Rapid Charge module installed.

©2020 Zero Motorcycles, Inc. All rights reserved. Zero Motorcycles, its logo, Zero S, Zero SR, Zero DS, Zero DSR, Zero FX, Zero FXS, Zero SR/F, Zero SR/S, Zero DSRP, Zero FXP, Zero MMX, Z-Force® and Take Charge™ are trademarks or registered trademarks of Zero Motorcycles, Inc. Specifications and pricing are subject to change without notice. Imagery may not reflect most current product specifications. Zero Motorcycles reserves the right to make improvements and/or design changes without any obligation to previously sold, assembled or fabricated equipment. Riders shown are professional riders on a closed course.
FB-210309-EU
---
---

Elevated Design.
The full-fairing on the new SR/S gives it a premium look that commands attention from the passing lane to the parking lot. Wrapped tight across the bike's trellis frame, it envelops a forward leaning rider in its cockpit for maximum aerodynamic efficiency and increases overall range by 13% over the naked SR/F
.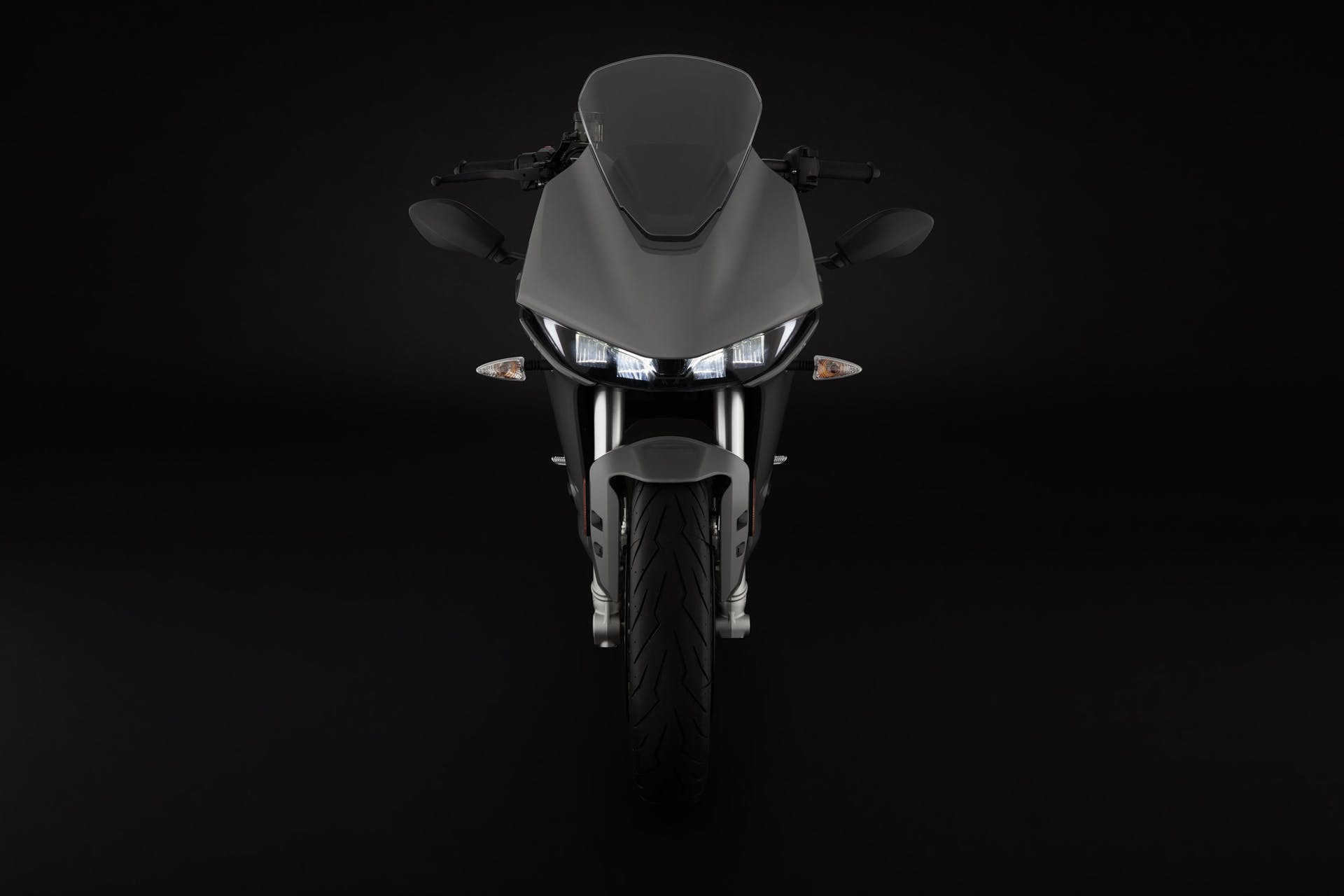 ---
Premium Comfort
Thanks to lower foot position and higher handlebar height, riders will enjoy a more upright and relaxed riding position on the new SR/S. Its ergonomic comfort even extends to two-up riding, giving passengers the ride of their life with matching lower pegs and a larger seating area. The fine-tuned suspension adds another level of luxury to the ride.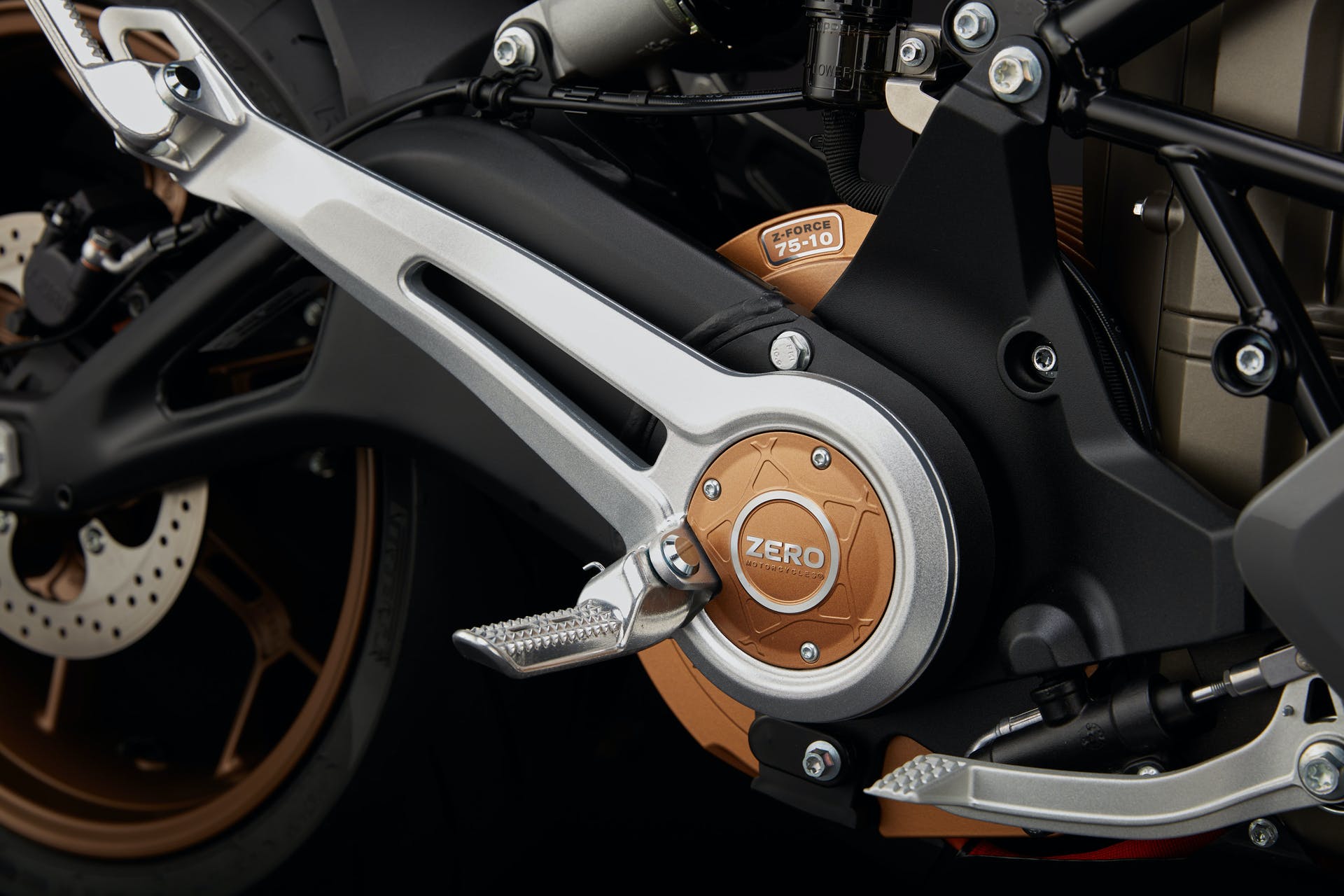 ---
Effortless Power
The ZF14.4 lithium-ion battery makes the SR/S capable of a 320 km maximum range with the optional Power Tank. The battery's industry-leading power and energy density combined with an aluminum heat-sink housing and thermal transfer interface ensure consistent cell cooling and maximum long-term powertrain performance.
The ZF75-10 motor delivers 190 Nm of torque and 110 hp, effortlessly propelling the SR/S to a top speed of 200 km/h. Pairing Zero's renowned internal permanent magnet brushless architecture and a passively air-cooled compact design creates class-leading performance and efficiency.
Our scalable Rapid Charge System allows the bike to be configured for 3 kW, 6 kW, 9 kW or 12 kW of charging at any standard Level 2 charge station.* The SR/S Rapid Charge System charges at up to 62 km of range per hour of charging (kphc) on 3 kW, 123 kphc on 6 kW, and 246 kphc on 12 kW, which can recharge the battery pack to 95% capacity in 1 hour. * Note: SR/S requires an EVSE cord in order to charge on a standard 110 V or 220 V wall outlet, included in NA.
A proprietary concentric motor and swingarm pivot design provide the optimal architecture to ensure constant drive-belt tension and maximum torque delivery to the rear wheel. A custom designed large-bearing swingarm pivot allows ample space for the high-performance motor while allowing a slim chassis waist to enhance rider ergonomics and bike maneuverability.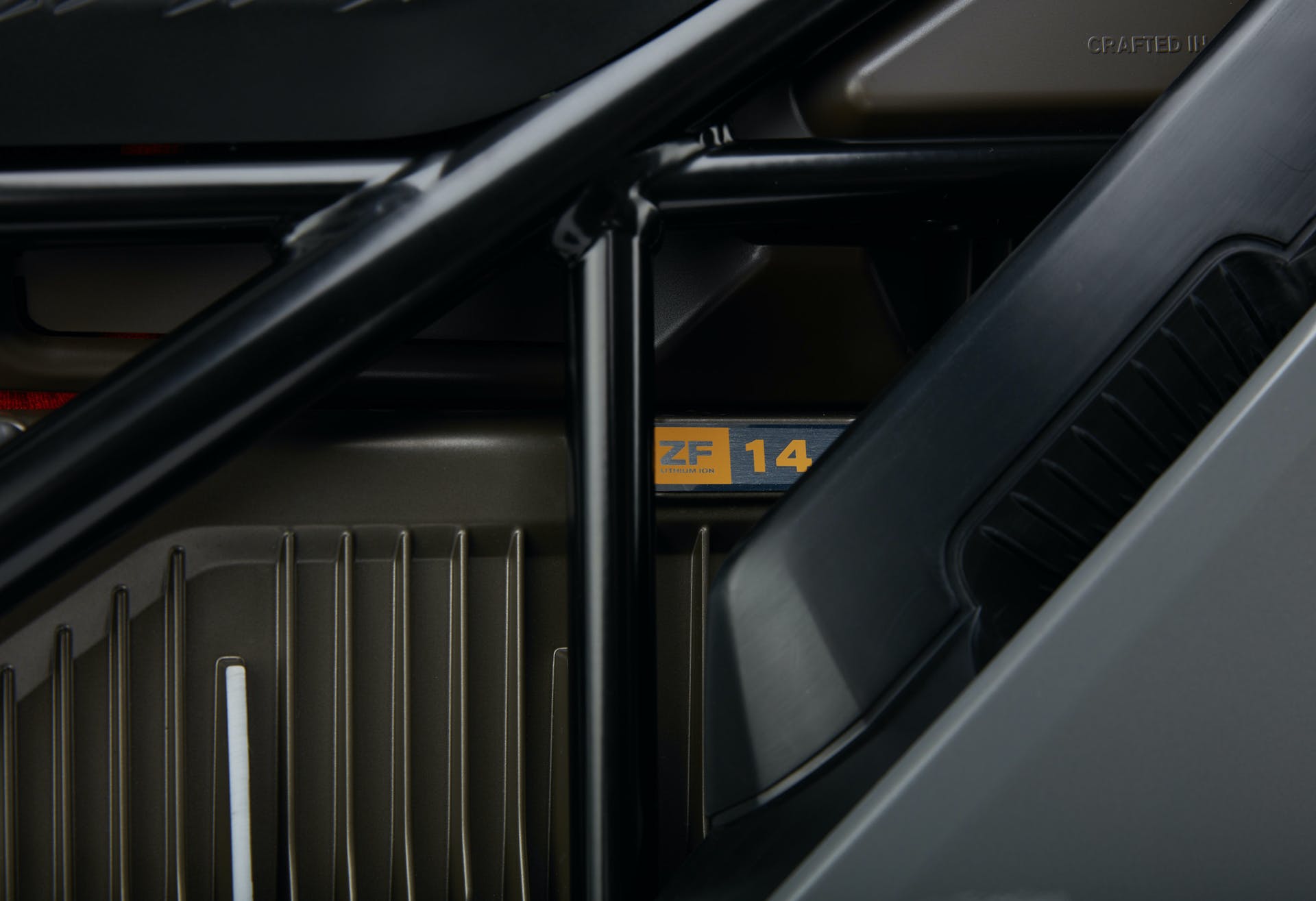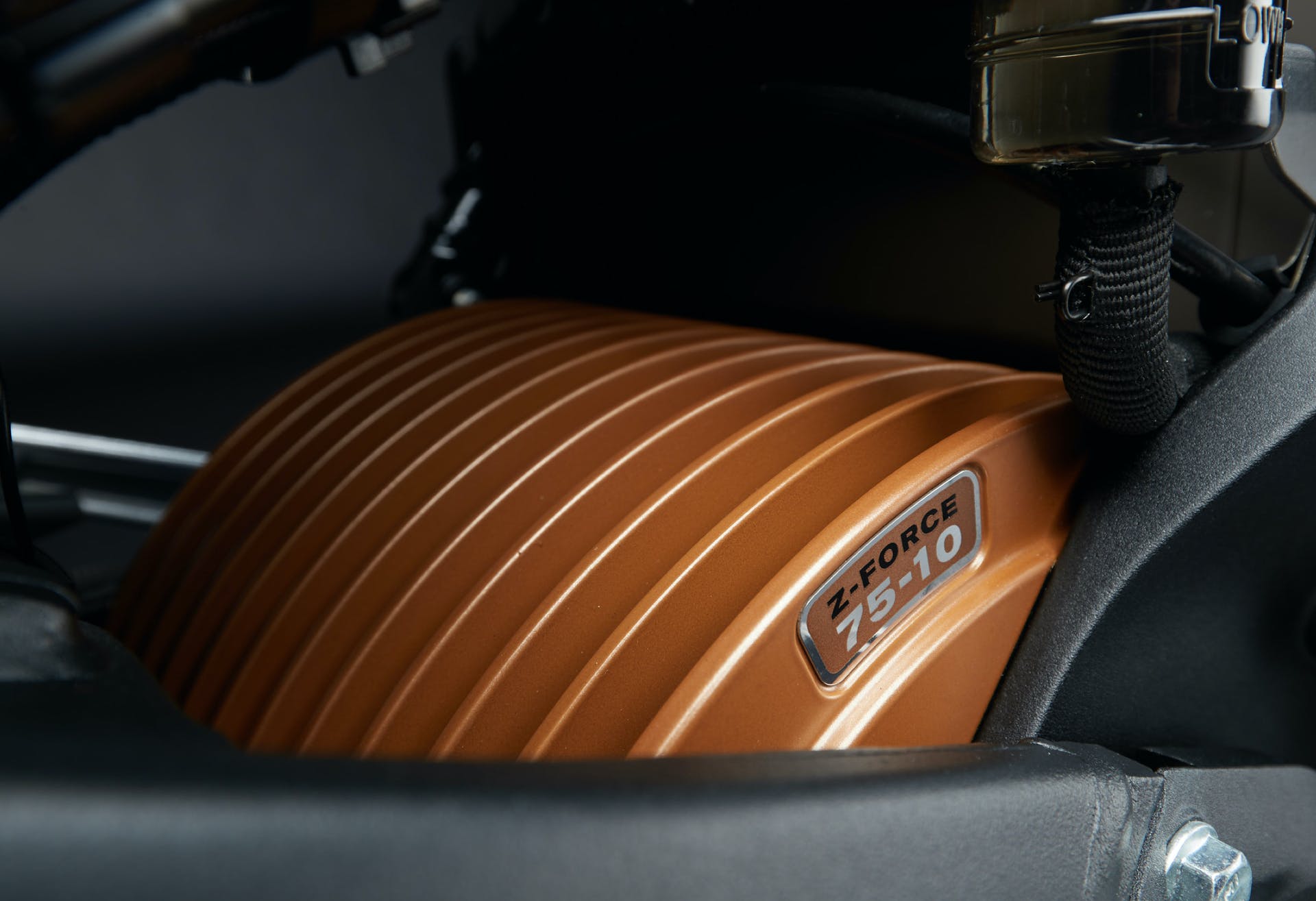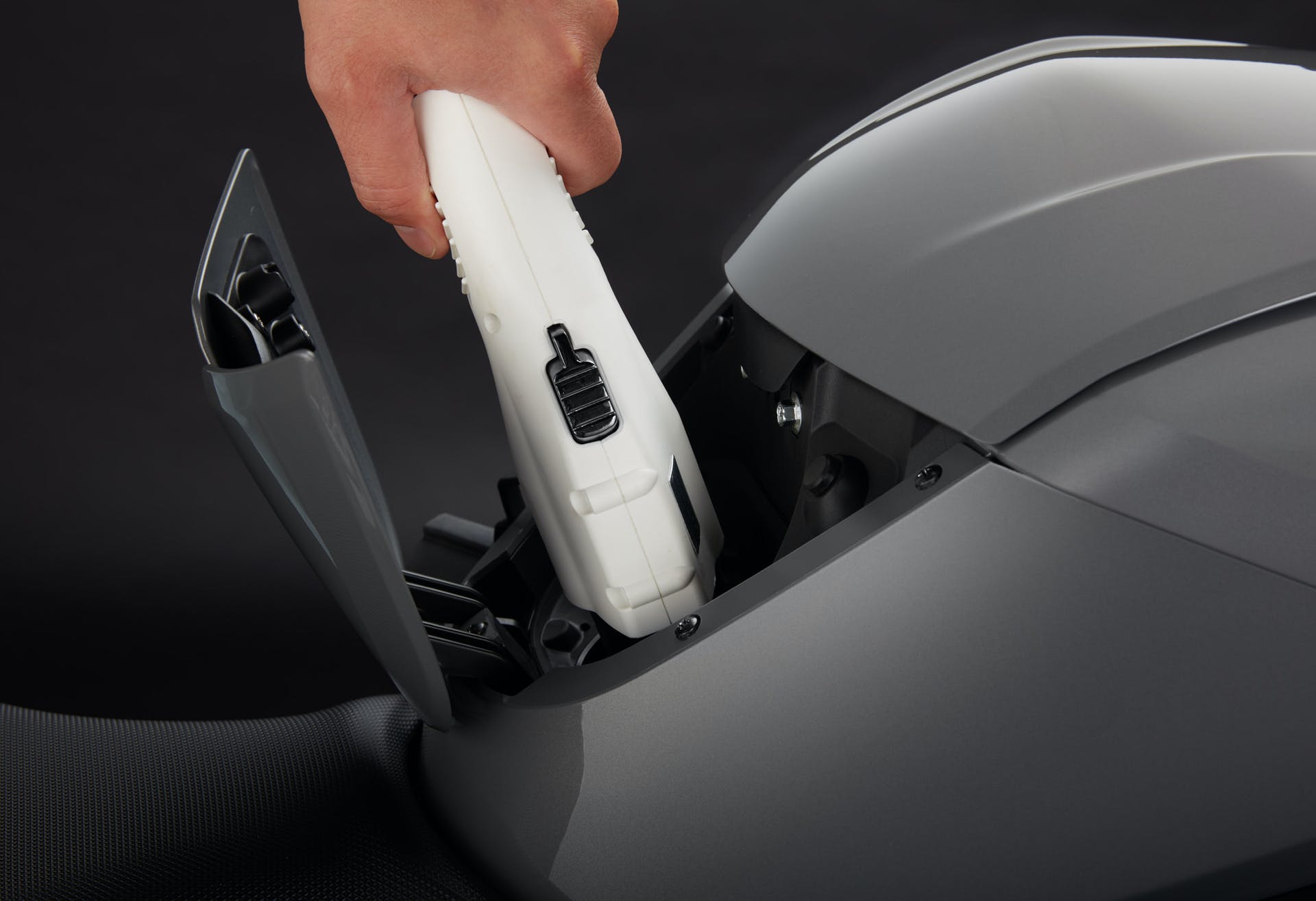 ---
Effortless Control
Cypher III, Zero's proprietary operating system acts as a hub to integrate all motorcycle systems. It delivers precise performance seamlessly for a consistent and superior riding experience.
The SR/S offers an arsenal of ride modes which allows the rider to customize the bike's performance through the intuitive next-generation app and dash interface. The SR/S navigates the road no matter the conditions with Street, Sport, Eco, Rain and up to 10 programmable custom modes.
The SR/S integrates Bosch's MSC System, renowned for dynamic acceleration and improved stability regardless of road surface or conditions. When combined with Cypher III, the MSC's full capabilities are unleashed, resulting in best-in-class straight-line ABS cornering brake control, traction control, and drag torque control.
Incredibly light. Unbelievably strong. The steel-trellis frame, custom swingarm and advanced Showa suspension deliver an athletic and intuitive riding experience. The powertrain is perfectly distributed, resulting in a weight-optimized/mass-centralized design, while a dual radial front brake system makes shedding speed as exhilarating as building it.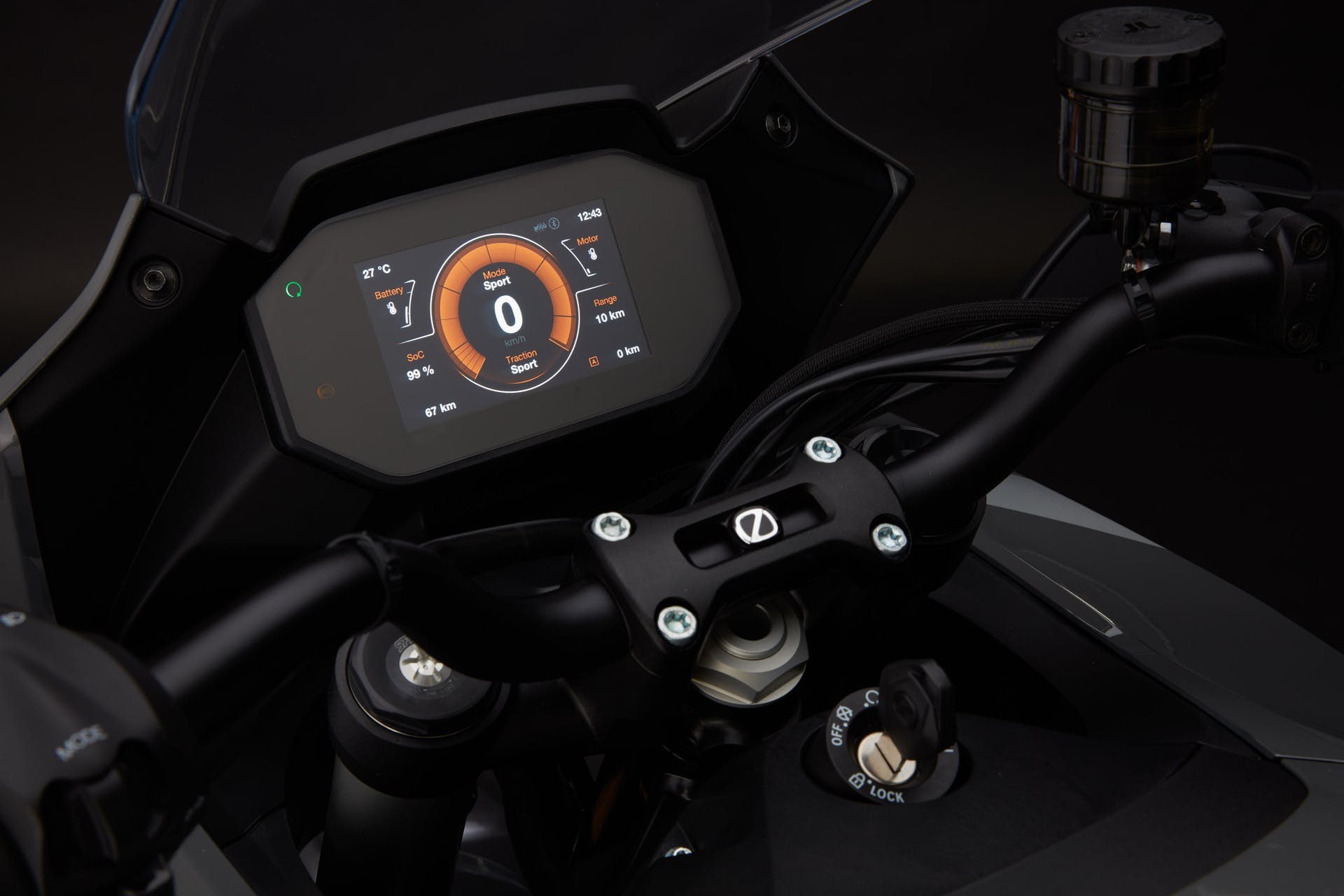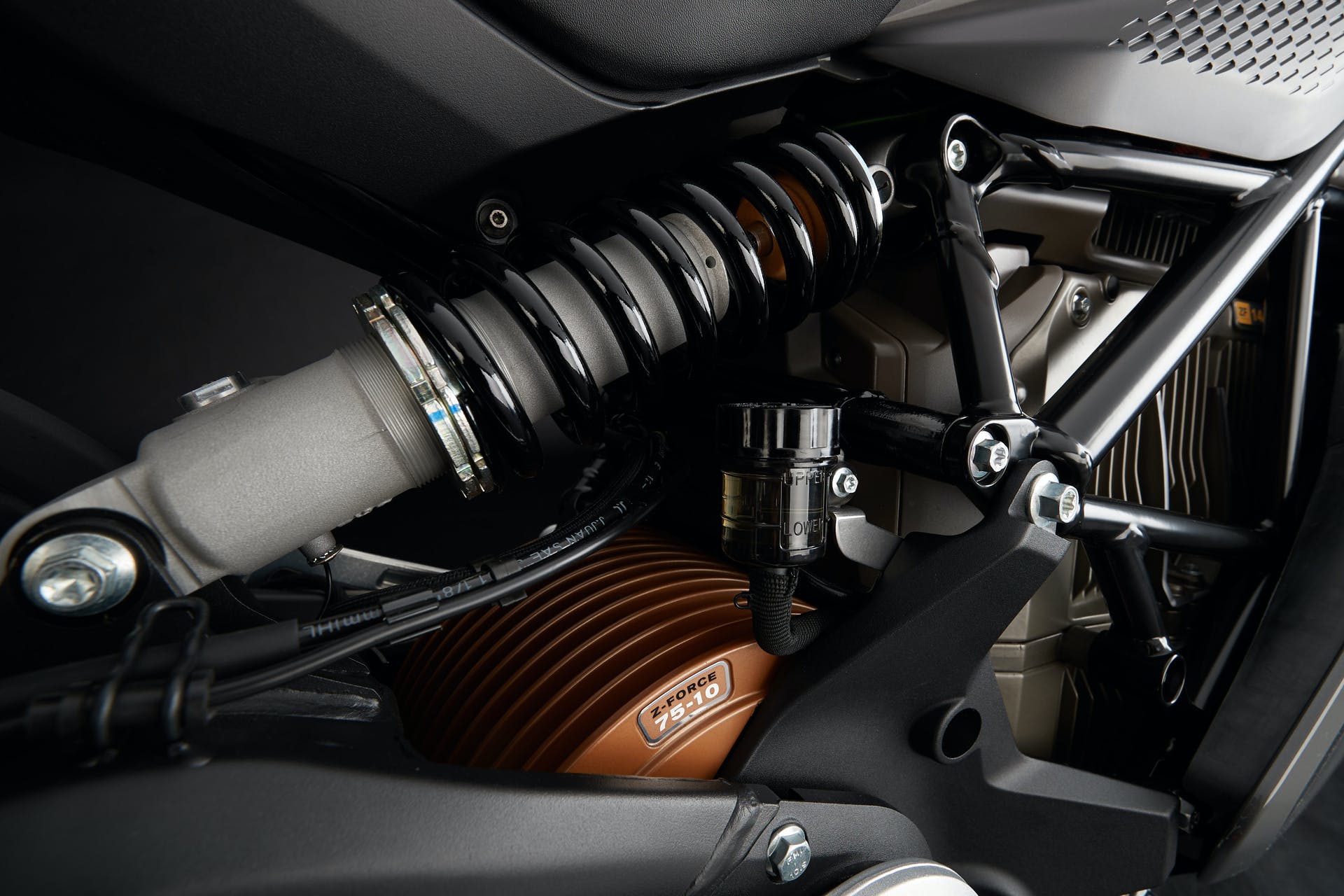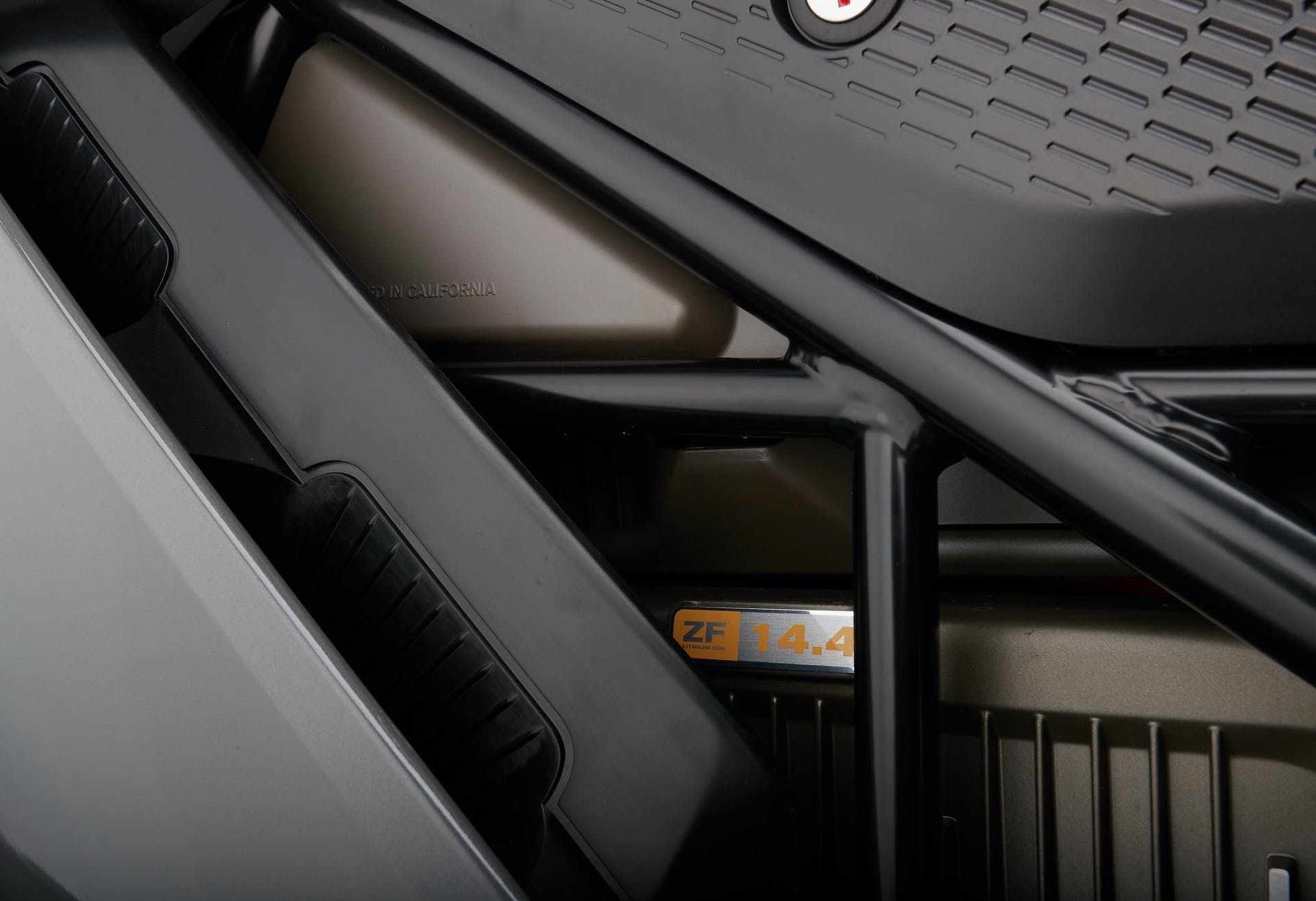 ---
Effortless Connection
The SR/S is connected through cellular networks, transmitting info to the app at all times. Ride information, current bike status and location are always available. This connectivity gives the rider the ability to monitor the bike in four (4) main areas: Bike Status Alerts, Charging, Ride Data Sharing, System Upgrades and Updates. Cellular connectivity is free for 2 years from the original purchase date
Zero's next-generation app works with the dash and Cypher III to create a feature-rich ecosystem: • Ride mode selection and creation • Personalized dash options • Scheduled and target-based charging • Charge-station location assistance • Extensive notifications, including bike state of charge (SoC), time to charge and last-ride statistics • Remote query and notification • Ride data available for review and sharing: location, speed, lean angle, power, torque, SoC, energy used/regenerated • Remote diagnostics and Cypher III updates